2022 Housing Market Outlook for St. Louis Park, Minnesota
Posted by AJ Pettersen on Friday, December 17, 2021 at 8:00 AM
By AJ Pettersen / December 17, 2021
Comment
While it's difficult to predict how the housing market will look in 2022, the St. Louis Park area continues to be one of the hottest markets in the Twin Cities. It is one of the most desirable suburbs in Minneapolis due to its proximity and accessibility to shopping, entertainment, lakes, and parks. The 2022 housing market outlook for St. Louis Park is again positive and is expected to slow at a lower rate than other areas around the country.
Is it a good time to buy? Is it a good time to sell? The answer is yes! While technically still a seller's market, the trend is toward a more buyer-friendly market than we've seen in recent years.
Inventory
St. Louis Park continues to be a seller's market, meaning there are more qualified buyers than homes on the market. Low inventory remains an issue nationwide and is expected to stabilize in most parts of the Twin Cities in 2022.
With uncertainty about interest rates and inflation, homeowners who have been waiting for the market to peak before selling may decide to enter the market after the holidays. This could create more inventory than we've seen in the past two years.
Time on the market
The average time a home spends on the market in St. Louis Park before being under contract is expected to remain very short. Sellers should continue to see multiple offers and quick sales in 2022. An increase in inventory may bring the number of offers down slightly, but the market is still filled with eager buyers hoping to purchase before any rate increases.
St. Louis Park Home Prices
According to Zillow, the median home value in St. Louis Park in 2021 was $361,068 in 2021. This represents a 6.7% increase over 2020. Single-family home values average $403,000. This trajectory should continue through 2022 barring any unexpected disruption to the market.
This graph shows the median value of ALL homes in the St. Louis Park market.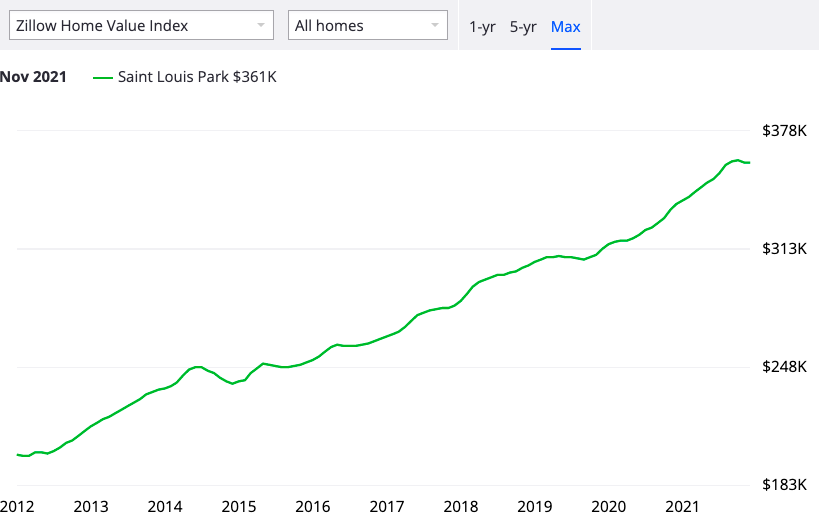 This graph shows the median value of SINGLE-FAMILY homes in the St. Louis Park market.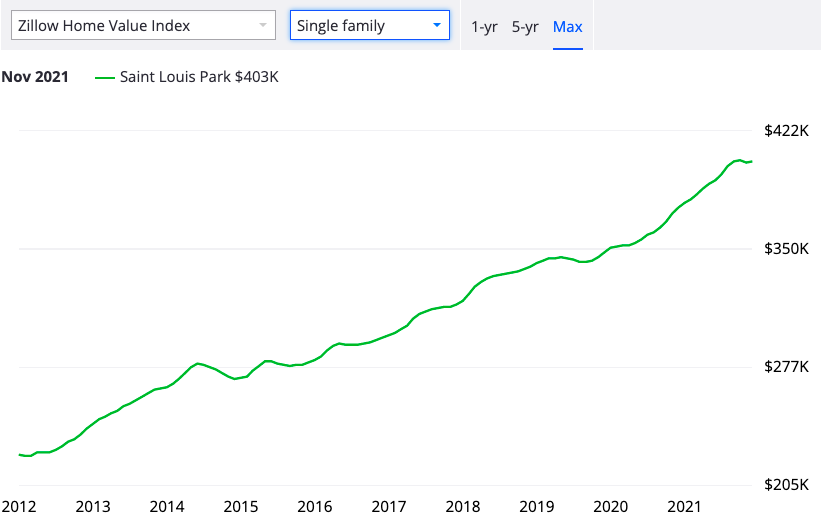 As with any year, 2021 experienced a seasonal dip heading into the holiday season. Robust activity should return shortly into the new year.
Interest Rates
The rates have held at record lows through 2021, but they are likely to start to increase gradually over the next few years. The Wall Street Journournal reports that the Fed is considering 3 incremental rate increases in 2022 alone to ease the impact of what may be persistent inflationary conditions. Fed rates
How will a fed rate increase impact the housing market? Since mortgage rates index against fed rates, it would certainly slow the rate of growth in property values. It also means that the cost of financing a home will go up. While this will impact both supply and demand over time, it should result in a continued strong market in the near term as sellers move to cash out and buyers lock-in while rates remain low.
Should I Buy, Sell, or Wait?
Given the likelihood of increasing interest rates, you may want to consider buying or selling as soon as possible. While there is no way to predict with any certainty what will happen in the economy in 2022, we're pretty certain that interest rates will be increasing.
If you're a seller, this means that the seller's market we've been enjoying may be coming to an end. The first quarter of 2022 may see the peak in property values growth that we've seen since early 2020. We don't anticipate home values going down at this point, just that price growth is expected to slow from the pace it's been on.
Buyers who have been frustrated with low inventory or have just been waiting for the market to stabilize may also want to consider getting into the market now. Lower interest rates reduce your buying power.
We're here to help!
Whether you're ready to sell, wanting to buy, or just don't know what to do, the Advisory Realty Group's team of real estate professionals is here to help. We'd love to sit down over a cup of coffee to discuss your housing goals and dreams. Helping you is what keeps us going!
Give us a call today!