Buying a Home | What You Can Do Now
Posted by AJ Pettersen on Monday, January 18, 2021 at 8:00 AM
By AJ Pettersen / January 18, 2021
Comment
Are you looking to buy a home soon? Well, that's great! Our team is ready to help you! But before we can start with the formal process of finding you a home, there are some things that you can do RIGHT NOW if you want to buy a home in the future.
Whether you're looking for a home for sale in St Louis Park MN, Minnetonka MN, Chanhassen MN, or any of our team's other favorite cities in the area, we must first address what you can do to make sure that you and your family are ready to buy a home.
Buy a House in Minneapolis | Do These Things
Having Good Credit
Having good credit is extremely important when buying a home. Without good credit, banks and other lenders are less likely to give you a loan to buy your dream home. You see, banks tend to operate on a corporate level, and stay away from emotions. Many banks won't take "I promise to pay it back" as an acceptable assurance, so they look at your FICO score as well as your credit score to assess whether you qualify for a loan.
Now you might be asking, "what credit score do I need to have to buy a home?". That depends on what kind of loan you are seeking to get. The Federal Housing Administration has the lowest credit requirements among all lenders, sometimes lending to individuals with credit scores as low as 500. On the flip side, traditional real estate mortgage companies require credit scores of much higher, around 620. If you're looking for a lower interest rate, you'll want your credit score to be above 700.
To get your credit score above 700 so you can qualify for those prime rates, you must start building your credit history as soon as possible. The main factors that go into your credit calculation are credit card use, payment history, credit age, total accounts, and the number of times you've applied for credit. Below is an image that shows you how your credit score is broken down.
Pro-Tip: Get pre-approved for a mortgage. Before you even buy a home, talk with lenders to get an idea of how much house you will be able to afford. A letter from a lender will also improve your offer in the eyes of the seller. In short, this first point we made boils down to BUILD YOUR CREDIT!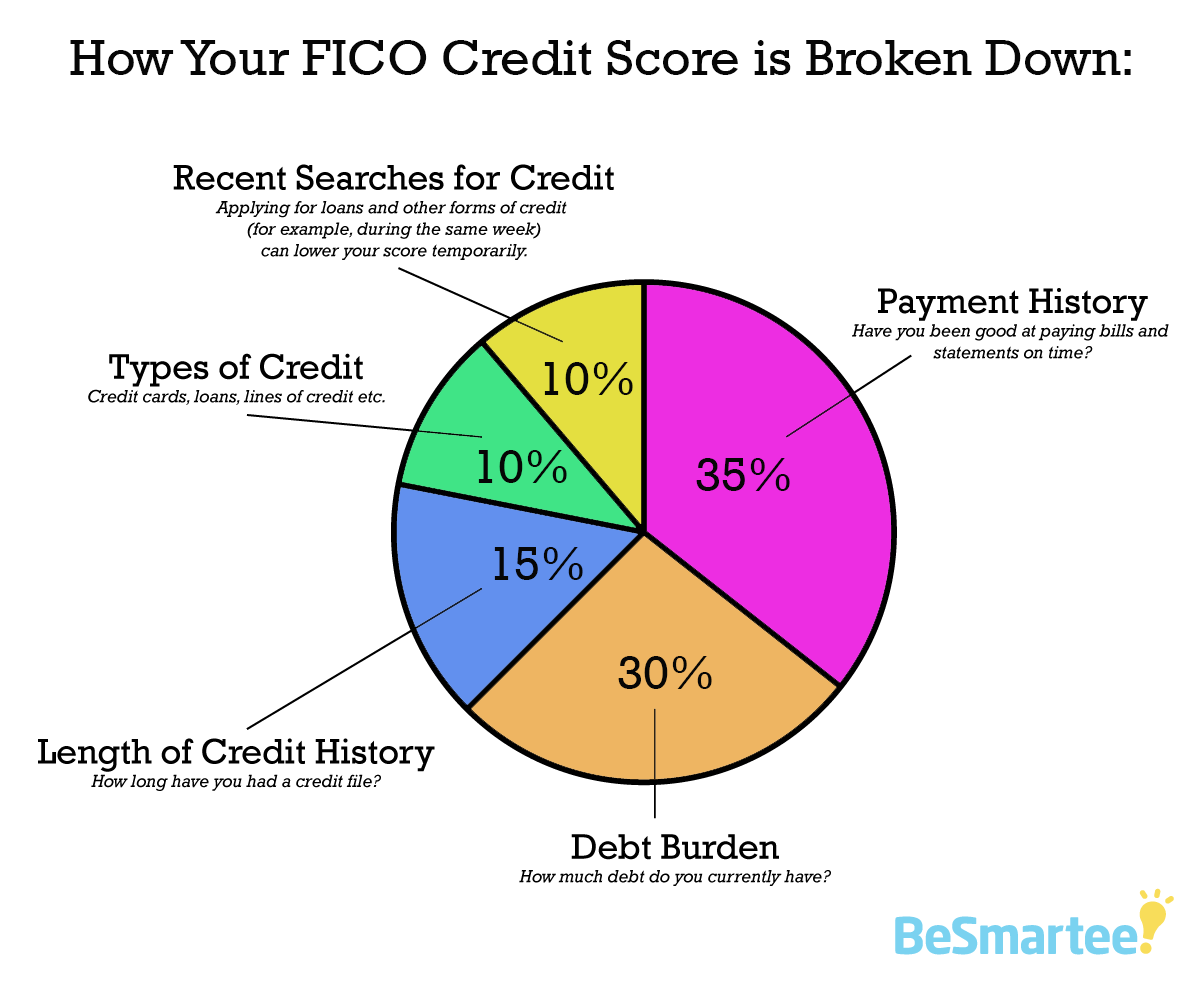 Start Tracking Your Budget
Homes are typically the largest purchase you will make in your lifetime. They're not usually something you go out on a limb and buy because you had a little extra money lying around. Buying a home takes some serious budgeting skills, and to buy a home one year, six months, three months, or three weeks from now, you'll need to have a solid budget planned out.
We're going to layout a simple five step process that you can follow to help you build a budget for buying a home.
1. Add Up Your Income: It's nearly impossible to know how much you can spend if you don't know how much you make. Add up every source of income that you make each month to come up with a total.
2. List Your Household Expenses: Come up with a list of where each of your dollars goes each month. This includes groceries, cell phone bills, rent, personal spending, savings, etc.
3. Calculate Home Ownership Costs: Experts recommend that you spend no more than 25% of your annual take-home income on your house. So do the math! If you make $100,000 a year after taxes, no more than $25,000 should be going to pay for your home each year.
4. Give Your Budget Room to Expand: Life happens. There are going to be unexpected costs that come up in your life, so be sure that you can play around with your budget if need be.
5. Make Adjustments: As time goes on you, may find that you're spending more in some areas of your life than you used to, and chances are you'll be making more money as time goes on. Re-visit your budget and make changes based on where you're at in life.
Talk To a Lender
We talked about this briefly earlier in the blog post, but talking with lenders is a great way to learn what you might afford. Another plus of talking with lenders is the fact that you'll receive different offers. Some lenders might offer you lower rates than others, while some might want to tie you up in a mortgage for much longer. Don't take the first offer that you receive. Shop around and find the best option for you!
Talk To a Real Estate Agent
Now it's our turn! Real estate agents are experts when it comes to buying and selling houses for clients. Like talking to lenders, each real estate agent is going to offer something slightly different, and our job is to make the home search process as easy as possible.
For example, say that you know you want a three bed, two bath house in St. Louis Park MN, but you're not sure how to start looking. Real estate agents have experience and know-how to find the perfect home for you, help you with the mortgage process, walk you through all the paperwork, and share as much knowledge as possible. Meeting with an agent and figuring out if they'll be a good fit for you is essential. Shop around! Find the agent going to go above and beyond to find you that house for sale in St Louis Park MN!
Start Looking!
We never said you couldn't start looking for fun. Go to websites like Zillow.com and Realtor.com to find potential areas that you might want to live in. If you find a neighborhood that you like, see what other homes in the area sold for, or are currently listed at. If you find a place you like, save it and remember what features it had to offer. Some real estate professionals recommend searching the markets for 15-30 minutes a day before you're even ready to buy a house so that when the time comes, you'll be as ready as ever!
Just because you might not be ready to buy a house tomorrow, doesn't mean that there aren't things you can do TODAY. Remember to take all of this seriously, because as real estate professionals, we know these tips can help the home buying process. If you can follow these guidelines, you'll be an all-star when it comes time buying a house!