St. Louis Park Real Estate Trends for 2022
Posted by AJ Pettersen on Friday, December 31, 2021 at 8:00 AM
By AJ Pettersen / December 31, 2021
Comment
After two years of historically low mortgage rates, recent guidance from the Federal Reserve suggests that rates will start to rise in 2022. Homebuyer activity is expected to increase in anticipation of these rate increases, with buyers making their move while rates remain low. So how will these mortgage rate trends affect the St. Louis Park real estate market in 2022? This blog will explore our expectations for St. Louis Park real estate trends for 2022.
Continued Seller's Market for St. Louis Park - For Now
According to the Goldman Sachs Group, the Fed has hinted at as many as four rate increases in 2022, with the first expected sometime in March. This news is accelerating buyer activity early in the new year, despite a continued lack of available inventory.
While these incremental increases are expected to be gradual, homebuyers tend to be psychologically motivated to lock in when rates are at their lowest point. As a result, the strong seller's market of 2021 will continue at least through Q1.
St. Louis Park Real Estate Market Trends
Redfin lists the current St. Louis Park housing market as "Very Competetive," with a score of 74 on their 100 point scale.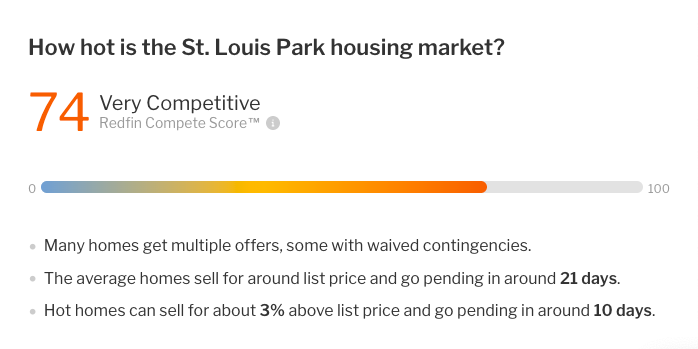 Median Home Sale Prices - The median sale price for homes (all types) in St. Louis Park was $344.250 in November of 2021, marking a 9.3% increase over November 2020. Single-family home prices were up 9.6%, with a median price of $380,000.
Number of Homes Sold - The number of homes sold (all types) in St. Louis Park increased 30.3% year-over-year based on data from Redfin. Single-family home sales dropped 10.6% year-over-year due to low inventory.
Days on the Market - Inventory turn increased slightly in 2021, with single-family homes averaging 21 days on the market in November, a 4% increase over 2020.
2022 Market Expectations
Assuming that the forecasted Fed rate increases occur as expected, you can expect to see a significant uptick in activity through March as buyers try to take advantage of lower monthly payment options.
Homeowners who have been waiting to sell are likely to be motivated to sell, anticipating the seller's market to start to taper. This would result in more inventory with more options for homebuyers.
Buyers have also been holding off on getting into the market, unable to find what they are looking for with these historically low inventory levels. Increasing inventory, combined with rising mortgage rates, should bring these buyers into the market.
The combination of increasing inventory and more buyers entering the market will extend the strong seller's market. The overall number of homes sold will increase as a result.
When will it end?
Is the current real estate boom sustainable? Economists are quick to point out that real estate trends are always cyclical. While this seller's market has been unusually long-lived, it will not last forever. But how long will it last? There are reasons to expect it to continue for at least a bit longer.
With increasing inventory matched by increasing buyer activity, we could easily see market strength extending through the end of 2022. The most likely change would be a slowdown in selling price increases as improving inventory leads to fewer bidding wars.
If the Fed rate increases are small, the impact on mortgage rates will be gradual. While a 4% mortgage rate seems high now, it remains low when compared to historical rates.
How will inflation impact home prices?
We've recently entered an inflationary period, causing an increase in the cost of the goods and services we purchase. The result is that our money does not buy as much as it once did.
Inflation also impacts home values. Inflationary periods can lead to a downturn in home sales. Our current seller's market will be impacted if inflationary pressures continue. Homeowners with low mortgage rates may stay put, enjoying their relatively low payments as their property increases in value.
And as home prices increase, whether from low inventory, inflation, or a combination of the two, down payment requirements also increase. This can force buyers with limited cash reserves out of the market.
Inflation is unpredictable. Our current inflation is due mainly to supply chain issues and worker shortages resulting from the economic disruption from COVID. Fed rate increases are intended to slow the rate of inflation by making borrowed money more expensive, ultimately giving your dollars more buying power. This may be a transitory period of inflation, and the Fed will weigh changes in market disruption and recovery in future rate changes.
How does all of this impact your decision to Buy or Sell?
Homebuyers are likely to find more opportunities in 2022 as more homes come on the market while mortgage rates remain low. This should lead to continued competition among multiple bidders for each property, which could increase prices slightly but at a much slower pace than we have seen in recent years.
So what does all this mean for those considering buying a home in St. Louis Park, Minnesota in 2022?
If you are thinking of purchasing a home in the St. Louis Park area, you'll want to act sooner rather than later! Interest rates are still relatively low but are expected to increase as we move through the year. Inventory levels should start to increase as we approach the Spring months.
If you are a seller, we're seeing LOTS of buyer activity. The fear of increasing mortgage rates is getting hesitant buyers back in the market. Sale prices remain high, so you will be able to maximize the cash you can get from your equity.
We're here to help!
The Advisory Realty Group knows the St. Louis Park market better than anyone. We know how to find the best opportunities, and we consistently get our sellers top dollar for their SLP homes.
Are you thinking about selling? Give us a call today to get a free home valuation.
And if you're selling, we'll help you be the first to learn about new homes coming on to the market and help you get the best deal possible.